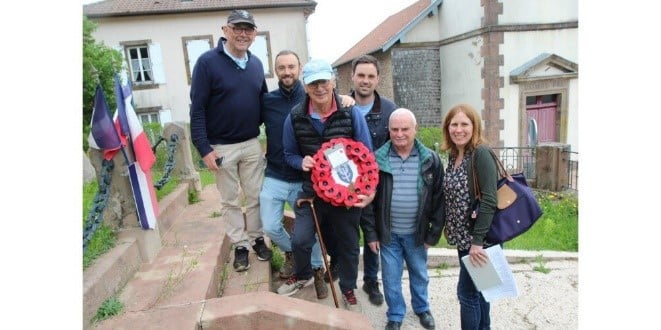 On the traces of the English parachutists of Pierre-Percée 1944
Celles-sur-Plaine: Englishmen on the trail of their uncle who participated in Operation Loyton
The nephews and grandnephews of Anthony Whatly-Smith, a paratrooper of Operation Loyton, came to pay tribute to him by walking through the characteristic sites of this military operation of September 1944. Article Vosges Matin – May 10, 2022
Sarah Prunier and Denis Guyon welcome four Englishmen who have come in search of Captain Whatly-Smith, their uncle, who was shot at Gaggenau. They laid a wreath of poppies at the war memorial.
Around Sarah Prunier who warmly welcomed and guided a family on the characteristic sites, it is a moving page that the two brothers David and Jos Whatly-Smith, who came from England with their sons Charlie and Jonny, nephews and grand-nephews of Anthony Whatly-Smith, made us live. A family that followed in the footsteps of their uncle, a paratrooper and captain whose name is engraved on the Pïerre Percée war memorial, as well as that of Major Denis Reynolds.
Anthony Whatly-Smith (spelling errors are noted on the monument), was one of those SAS (Special Air Service) paratroopers who landed at Veney, probably on 1er September 1 44, at the the Loyton operation the largest operation conducted by the 2e SAS in France, arrival in the valley of the Plaine and the Rabodeau.
At the Pierre Percée war memorial, in the presence of Mayor Denis Guyon, the nephews laid a wreath of poppies. Then the group joined the Kister couple at the guest house "aux deux lacs", chemin de la vierge Docteur. The nephews wanted to see the house – but it has had several owners and has been renovated since 1944, when it was the home of the Le Rolland couple whose wife was a nurse in Paris. She had been treating Anthony Whatly-Smith and a wounded fellow soldier whom he would not leave. Because of the occupation of the house by the Germans, the couple Le Rolland had advised the two English soldiers to hide in a cave in the Ortomont massif, overlooking the village. A very complicated situation for two months!
Searching forthis cave
Following the marked path, Sarah Prunier, Richard and Joëlle Kister led the English, climbing the Ortomont to discover a rocky bank… and finally the cave. A shared happiness!
Anthony Whatly-Smith was captured at the hamlet of La Trouche while attempting to cross the enemy line to join the Americans. Taken first to the fire engine room of Allarmont, he was sent to the camp of Schirmeck and then to Germany, shot in Gaggenau on November 24, 1944.
The base camp near Moussey
If Anthony Whatly-Smith did not join Moussey, his four nephews wanted to pay their respects in front of the graves of "the English" and several monuments… They do not forget the sacrifice of the fighters who came from across the Channel to liberate the Vosges from the Nazi yoke.