Sports, leisure and cultural activities
THE LAKES


Lake of Pierre-Percée

5 min walk : Hiking, mountain biking,

fishing
,






Adventure park






the largest artificial lake in Lorraine, it covers 304 hectares. Its peaceful shores and coves, its wooded relief and its exceptional natural setting offer magnificent coves and allow for beautiful walks over nearly 35km. A V.T.T. circuit goes around it and a rental point offers you many possibilities of nautical activities at the "Bordes".



Lake of the Plain

5 minutes by car from the lake : nature sports center, water activities, canoeing, swimming, games for children
Lake of the Maix in Vexaincourt at 15 min by car

In the middle of the forest, this small emerald green lake is a natural glacial jewel. This mysterious place is a haven of peace and serenity. The remarkably well-preserved chapel and crypt bear witness to a rich past whose legends still linger on the shores.
MASSIF DES VOSGES – NATURE OUTINGS
Cultural and military heritage

Remains of the castle of Pierre-Percée 5 min walk, it dominates the village, dates from the 12th century. A well of 9 meters in circumference gives it its definitive name Pierre-Percée.

The Vosges have kept great traces of the First World War, most often hidden on the mountainside.
OBSERVATORY OF THE COQUIN : rock between the valleys of the Plaine and the Rabodeau, remarkable observation point, it was fortified by the Germans. The blockhouse at the top is an interesting vestige. It is part of an important series of fortifications on the summits of the left bank of the Plain. A grandiose panorama on 360° …SUGARLOAF: another observation post, fortified and built during the warMEMORY TRAILS AT THE CHAPELOTTE PASS This place is the one of the first destruction of a Zeppelin by war and the one of the greatest depth ever reached in the underground war. The Chevrot gallery at the Chapelotte pass is 120 meters deep. To see at the pass: a fountain built by the French soldiers, a chapel built by the Cartier-Bresson family and nearby, the rocks of the Pierre à Cheval, the cave of the Poilus … Guided tours from April to October: reservation at the tourist office 03.29.50.86.27CENTER OF INTERPRETATION AND DOCUMENTATION 1914-1918 PIERRE-PERCEE LA MENELLE 03.29.41.72.63 – http://www.guerre-en-vosges.comFresco Sartorio: made in homage to the soldiers of the Great War, at the entrance of the cemetery of Pierre-Percée.
Further on, by car
15 minutes from RAON L'ETAPE
At 25 minutes :

BACCARAT

Cristallerie, Saint-Rémy church
30 minutes away:

the sacred mountain of Donon
SAINT-DIE

40 minutes away:

SAINT-DIE


LUNEVILLE

Castle, Hotel and Abbey Museum
PLAINFAING



Fraispertuis City


the most "western" leisure park in the Vosges
Natzwiller – Struthof concentration camp

50 minutes away:

SCHIRMECK
Animal park of Sainte Croix

At 1 hour & more :

Natzwiller – Struthof concentration camp
the Haut Koenigsbourg Castle, Monkey Mountain, Eagle's Flight
Colmar, Nancy and Strasbourg

At 1 hour 30 minutes & more:

Europa Park in Rust, Germany, voted 7 times best amusement park in the world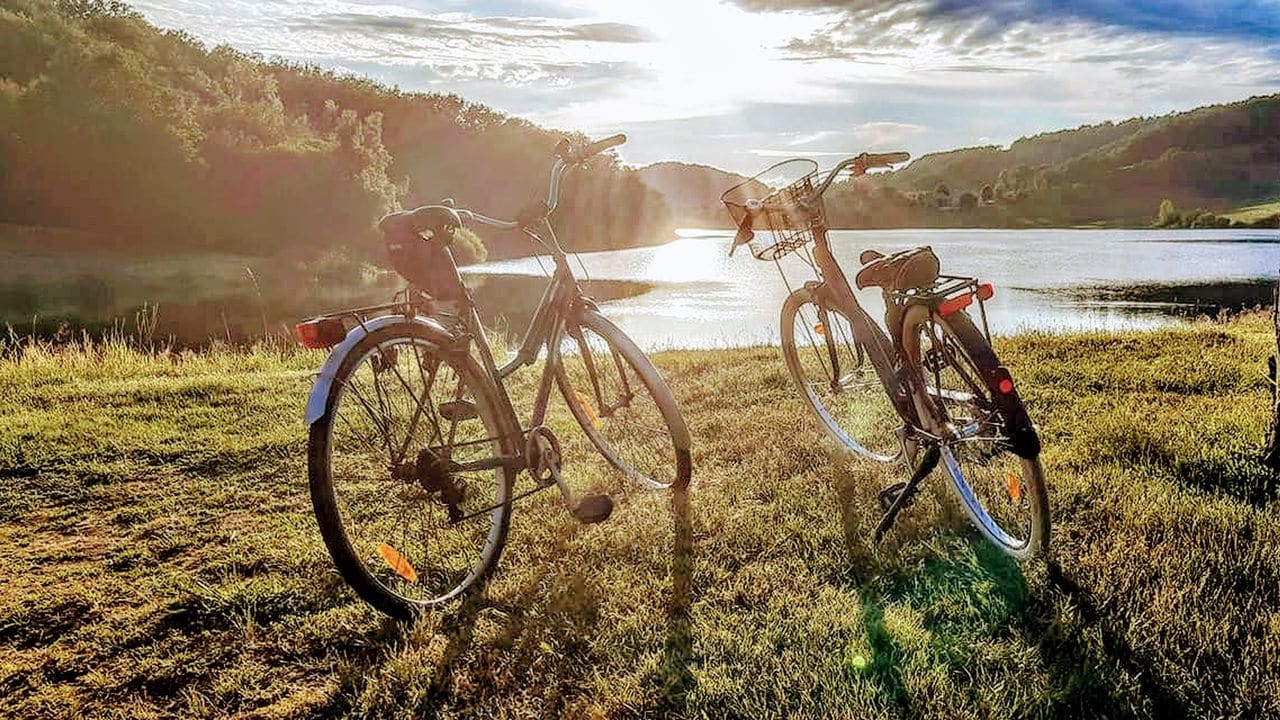 Bike rental Tourism
Camping des Lacs***: 03 29 41 28 00 (only until 15/9)

electric bike 30€ 1/2 day and 50€ a day – Non electric 10€ 1/2 day, 16€ a day